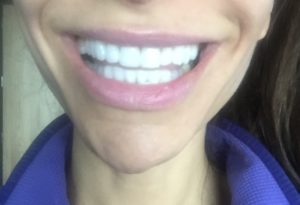 When done well, white teeth can take years off your appearance.  Unfortunately, a lot of the whitening methods are loaded with chemicals, not FDA approved, made in China, don't work, or can cause damage and sensitivity.
I've tried all kinds of natural remedies: oil pulling (which I believe is hooey), strawberries, baking soda, activated charcoal, you name it.  They just didn't work for me.  Before my wedding, I had my teeth professionally whitened with Zoom.  I swear if the military just Zoom'd terrorists' teeth, the enemies would give up secrets instantly.  IT WAS THAT PAINFUL.  Those zingers are ridiculous.
With all that said, I have finally found something that works.  It's:
FDA approved;
Quick and efficient;
Will not cause sensitivity or damage when used correctly;
Done at home;
Contains just one ingredient that the EWG rates a three;
Has no artificial flavors or chemicals added;
Inexpensive; and
Made in USA.
THIS is the product.  They send you molds, which you make of your teeth at home using a putty.  You mail the molds back in a little prepaid envelope, and they send you the trays, which will fit every nook and cranny of your teeth, because they're custom.  I did this years ago at my dentist, and the identical trays were $600.  These are $85, which includes everything — even the gel.
Follow the bleaching directions carefully to avoid damage or sensitivity.  I only did mine for three days, and I was done.  I can't stress enough to follow the included directions to avoid damage and sensitivity.  I think they say to start with 20-minutes then work up to 45.  Just read the directions please.
I have absolutely no affiliation with the company.  I don't make a cent for saying any of this.
Now, get to bleaching, be careful, and send me a pic of your gorgeous choppers afterwards.